How to reach the island
---
כעת יש טיסות ישירות מישראל לנמל התעופה בפרבזה, כ – 10 דקות מהכניסה לאי, לפרטים התקשרו: 04-6360664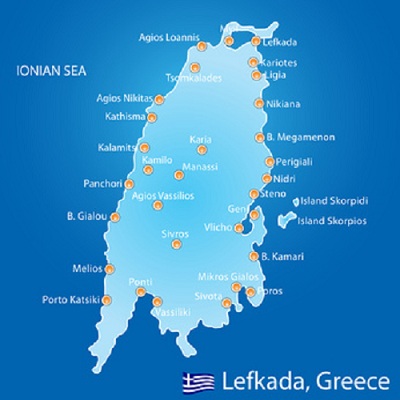 Lefkada is one of the Ionian islands situated above Patras on the north western coast of Greece. Originally separated from the mainland, it can now be reached over by land through a narrow road and a bridge. The distance between Lefkas & Athens is 385 kilometers. You can reach Lefkas by your own car, via the bridge that connects Lefkas with Etoloakarnania, without transporting your car with the car-ferry boat. Alternatively, if you do not want to drive, you can reach Lefkas by KTEL buses, that leave from the big Greek cities, Athens, Thessalonica, Patras, Giannena. From Athens, bus service is daily and the travel lasts 5 hours, while the bus- connection to Thessalonica is 2 times the week and the travel lasts 7 hours. The sub-marine tunnel Preveza-Aktio and the bridge Rio-Antirio have facilitated a lot the access to the island of Lefkas. From "preveza" you can rent a car or a taxi and follow the sign to lefkas.
How to get to "Serenity" from "lefkas": GPS coordinate – "N 38°39'36.92" E 20°34'19.44 Ones you cross the bridge from the mainland ,You follow the sign to "porto katsiki",look for the village "Athani" which is on the road ,on the way you will see signs of "Serenity" and than up the hill you will find our hotel.
 Landing in Thessaloniki : 370 km , the main road is the " Egnatia " to Ioannina . In Ioannina , you exit from the Egnatia Highway and follow the signs to show the way to Lefkada. Pass the city Arta and then come to the city Preveza . Then go to the underwater tunnel in Aktio that cost 3 euros, after 20 km you will reach the island Lefkada .
The easiest and most recommended way, is to simply register in "WAZE" app the words- "Serenity boutique hotel Lefkada" or "Serenity boutique spa", and then is clear route with precise directions.
Click here for directions from Lefkada city to Serenity hotel
Flights to and from "Preveza" air port. Flights "Atons – Preveza"